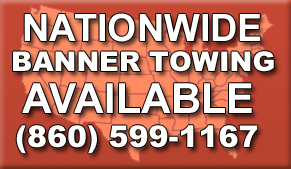 FREE QUOTE
Contact Banner Tow USA Today
Banner Tow USA offers unique and unforgettable specialty advertising and personal messaging.

VENUES

NATIONAL SPORTING EVENTS:
NFL Football / Superbowl
NCAA College Football
PGA Golf Tournaments
Major League Baseball
NASCAR
Marathons
Regattas
NATIONAL - LOCALITIES:
Beaches / Coastal / Marinas
Major Markets and Cities
Throughout US
BANNER TOW USA
353 Greenhaven Road,
Pawcatuck, CT 06379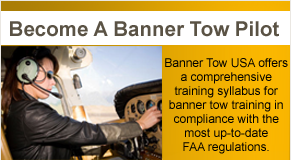 SKYWRITING SERVICES

Post by Admin
Skywriting Messages Stand Out !

The Most Effective and Remembered Means of Outdoor Advertising. Skywriting Messages Stand Out !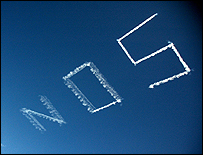 Skywriting is a fun, creative and unique medium perfect for romantic marriage proposals, holiday wishes, graduations, weddings, births, anniversaries, support of your favorite team, political elections and any other special event that you wish to commemorate and remember forever. This method of advertising is so novel that it almost demands to be read for all of the duration the letters are forming. Skywriting has been used to successfully advertise soft drinks, motion picture releases, television series, web­sites, political candidates, products and services.
Advertising Impact Like No Other!
Skywriting is performed by a single aircraft writing out each printed, capital letter in "long hand" at altitudes of over 10,000 feet. It requires a blue-sky background and negligible wind for best results. A short message of up to six characters can be repeated twice across the sky. Upon special request a heart, circle or other simple design may be written in the sky.
Be Seen For Miles
The letters are about a mile tall and the message may be as long as fifteen miles.  Each letter takes one to two minutes to form. A shorter message is more likely to be visible at once.  Longer messages have the chance that the first part may be gone by the time the last part is formed.  The drifting smoke only retains a letter for a maximum of 20 minutes so the message must be written quickly and without error. The success of the mission is determined by several factors: the skill and ability of the pilot, the maneuverability and power of the aircraft, the sky conditions and the message content.  At Banner Tow USA our pilots are experienced, skilled and artistic, ensuring exceptional quality of letter formation. 
Advertise With A Classic Warbird!
Our AT-6 Texan WW II airplane is a meticulously restored and maintained 600HP aircraft known for its aerobatic maneuverability and agility.  Last, our trained staff will assist you in choosing and formatting your custom message text to ensure lasting power and clarity.  Although the weather conditions may be out of our hands… we provide you with weather information and forecasts from the most reliable and high tech equipment available to the aviation industry, to assist you in scheduling.
No Other Form Of Advertising Is As Powerful!