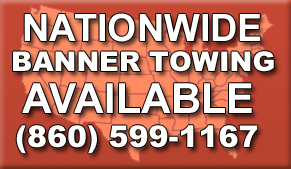 FREE QUOTE
Contact Banner Tow USA Today
Banner Tow USA offers unique and unforgettable specialty advertising and personal messaging.

VENUES

NATIONAL SPORTING EVENTS:
NFL Football / Superbowl
NCAA College Football
PGA Golf Tournaments
Major League Baseball
NASCAR
Marathons
Regattas
NATIONAL - LOCALITIES:
Beaches / Coastal / Marinas
Major Markets and Cities
Throughout US
BANNER TOW USA
353 Greenhaven Road,
Pawcatuck, CT 06379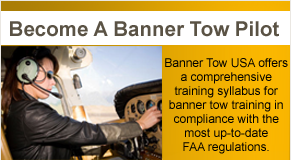 LEARN TO BE A BANNER PILOT

Post by Admin
LEARN TO FLY!
Banner Tow USA offers a comprehensive training syllabus for banner tow training in compliance with the most up-to-date FAA regulations. The training program is available to properly qualified pilots having a minimum of 300 hours PIC and takes approximately 7-10 days to complete. The training syllabus includes flight training, ground instruction and paperwork. Upon completion of this training program we can schedule an observation with our FAA FSDO or you may schedule your own appointment for an observation with your local FAA FSDO utilizing your own equipment. Once you have successfully completed training and have been observed by a designated FAA representative, you will be qualified to work for most banner towing operations depending upon the equipment being used.
Training includes a pre-training comprehensive evaluation flight, up to 20 hours in a modified Cessna C172 or Cessna L-19 Birddog, 15 hours of ground school and up to 5 hours solo pulling our company banner.
Ground Instruction Includes:
Aircraft fuel systems, aircraft speeds, pre-flight and post-flight procedures, banner construction and set up procedures, proper storage of banner equipment, FAA Part 61, Part 91 and certificate special provisions relevant to FAA/FA-I-8700-1.
Flight Training Includes:
Instruction in low altitude flying relevant to banner tow operations including maximum performance maneuvers, full stalls, flight at low air speeds and emergency maneuvers / procedures.
VENUES
NATIONAL SPORTING EVENTS:
NASCAR
NFL Football / Superbowl
NCAA College Football
PGA Golf Tournaments
Major League Baseball
Marathons
Regattas
NATIONAL - LOCALITIES:
Beaches / Coastal / Marinas
Major Markets and Cities Throughout US
BANNER TOW USA
353 Greenhaven Road, Pawcatuck, CT 06379