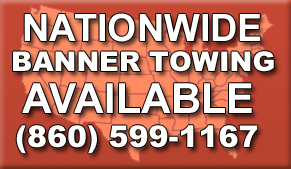 FREE QUOTE
Contact Banner Tow USA Today
Banner Tow USA offers unique and unforgettable specialty advertising and personal messaging.

VENUES

NATIONAL SPORTING EVENTS:
NFL Football / Superbowl
NCAA College Football
PGA Golf Tournaments
Major League Baseball
NASCAR
Marathons
Regattas
NATIONAL - LOCALITIES:
Beaches / Coastal / Marinas
Major Markets and Cities
Throughout US
BANNER TOW USA
353 Greenhaven Road,
Pawcatuck, CT 06379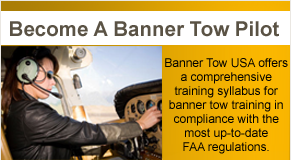 BANNER TOWING

Post by Admin
Banner Tow USA offers our clients a variety of messaging options:
Red-Letter Banners

The first is a 5-foot high Red-Letter Banner. We stock over 5000 letters and punctuation symbols and can assemble a banner from these letters in less than one day. We also stock 5-foot high red hearts for romantic occasions, a 10ft x 15ft American flag that can be trailed at the end of your message, as well as a black-letter " . com ".  Your message can read up to 38 characters including spaces. This type of banner is ideal for fast, affordable messages in the sky.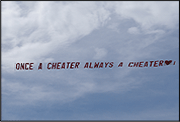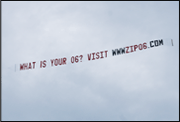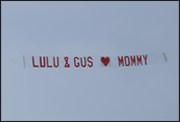 Aerial Billboards

The second type of banner is an Aerial Billboard, which can be from 15-50 feet high and 20-125 feet long.  Your message is either digitally transferred or painted onto the billboard and is not easily changed.  These billboards can take up to two weeks to manufacture, so call now to get started!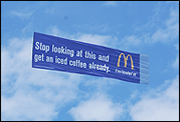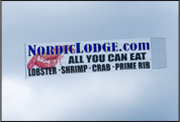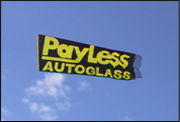 Logo Boards

The third type of banner is a Logo Board, which is combination of the two above.  An aerial billboard approximately 20 feet high by 40 feet long coupled with a trailing line of 5 foot high red letters that can be changed whenever you need to customize your message.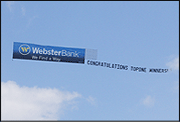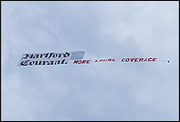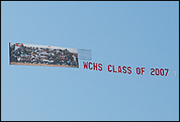 Double Aerial Billboard

The fourth type of banner is a Double Aerial Billboard measuring approximately 20 feet high by 60 feet long. This billboard is coupled with a second aerial billboard or V-Banner of the same size. The message is painted or digitally transferred onto it so that the secondary message can be changed or customized as needed.